You can count on us to be experts in state-of-the-art dental technology for you to have the best experience possible while receiving dental care that meets our rigorous standards.
Our goal is to provide the highest standard of dental care by prioritizing both safety and the utilization of Digital Dentistry, which provides solutions never available before and allows us to present you with the most efficient and accurate treatment available.
At Chevy Chase Digital Dentistry, we strive to use any and all tools at our disposal to guarantee patient satisfaction and comfort. Faster integration of new technologies improves efficiency regarding both cost and time, accuracy when compared to previous methods, and predictability of our results.
Our Digital Services:
Digital Mouth Scans
Digital, high-efficiency scans are an innovative new technology in modern dental practices used to replace traditional dental impressions. The TRIOS 4 captures live images of your teeth and gums, creating an immediate digital image.
The entire process takes less than five minutes and causes zero discomfort. With this technology, Dr. Azin Ghesmati and Dr. Cobb can make precise, digital scans of your teeth allowing for a quicker, more comfortable, and interactive analysis.
The benefits of using digital impressions include:
Shorter dental visit
Improved Patient Comfort
More Accurate Dental Impressions
Digital Storage that allows tracking of the progress of your treatment more effectively
Pre-Treatment Smile and Restorative Design
3Shape technology is the leading software for smile and restorative digital design in dentistry. Dr. Cobb has received extensive training in 3Shape's design software, making our office one of the few that can utilize this technology, originally created for dental laboratories.
Our expertise enables us to design your smile more accurately, quickly, and cost-efficiently than before. You can visualize and approve your new smile before any treatment has started.
3D Printing in Dentistry
3D printing is Digital Dentistry redefined. Our office has added the latest 3D printer, NextDent 5000. The advanced print technology and compatibility with leading dental software have enabled us to produce trays, models, orthotic splints, interim crowns, and bridges with enhanced speed, precision, efficiency, and lower cost. Employing this state-of-the-art technology increases the diversity of solutions available to our patients without sacrificing our high standards.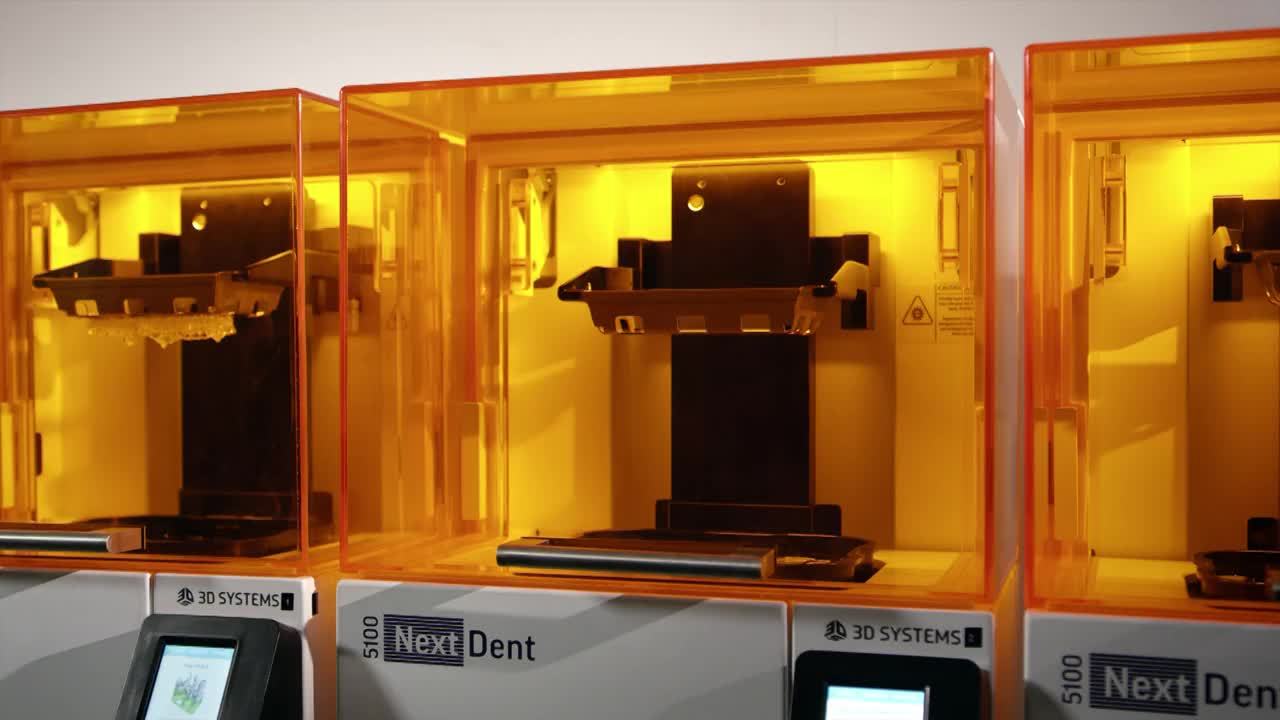 Digital Bite Analysis (TEK SCAN)
An unstable bite may lead to any of the following problems:
painful teeth
tooth wear
broken teeth and restorations
early tooth loss
make gum disease worse
sore jaw muscles
headaches
difficulty eating
TMJ noises and breakdown.
Technological advances in dentistry take much of the guesswork out of traditional bite analysis methods. Our office uses the T-Scan® III, a computerized occlusal (bite) analysis system. The handheld device allows us to take a quick and accurate assessment of the time and force of your bite when you bite down on an ultra-thin sensor.
This information is sent to the computer, which analyzes and displays the data immediately. From this 3-D analysis, we are able to diagnose any issues with your bite provide you with timely and comprehensive solutions.
Digital TMJ Analysis (JVA)
Healthy joints are smooth, well-lubricated, quiet, and pain-free. As joints break down, the surfaces change, causing noises, joint inflammation, and pain. Changes in the jaw joint can also cause an altered bite.
The jaw joint (TMJ) is small making it difficult to diagnose joint problems. JVA is a non-invasive, quick, and easy method to assess the health of the TMJ. The JVA records joint vibrations during movement and algorithmically calculates the probable health of the TMJ.
As part of a complete examination, JVA allows Dr. Cobb to accurately assess TMJ health and develop personalized treatment plans designed to promote long-term oral health and improved joint function.
Bellus3D Face Scans
Bellus3D Dental Pro is a powerful 3D face scan that helps us incorporate facial scans into the dental planning process. These scans are an integral tool in diagnostic planning, communication, and design. Bellus3D Dental Pro is an emerging technology that provides design insight we never thought possible.